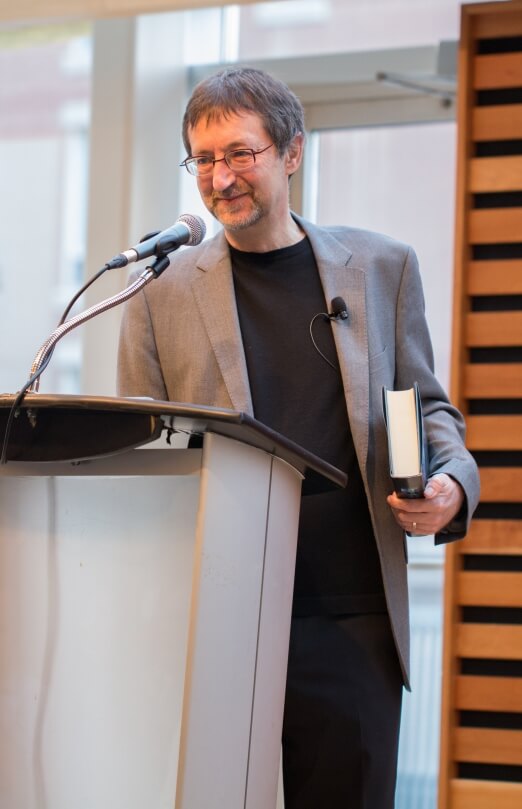 A day that takes a quarter-turn to the fantastic…that's how I would describe April 4th.
It took me a week to write about this event because I needed enough distance from it to say something more interesting than "Eeeeee!" We all have those particular authors, don't we? The ones we've just discovered, or the ones we've loved all our lives, whose writing moves us, whose imminent new books make us tingle with glee and anticipation. I've had the privilege of meeting several authors from my own superstar pantheon, but I'd yet to have a chance to meet Guy Gavriel Kay, whom I have read and loved for more than fifteen years. With the release of his new book River of Stars, the Bram and Bluma Appel Salon series rectified that for me by presenting a wonderful evening with Mr. Kay and Chatelaine books editor Laurie Grassi.
With the exception (the exceptional exception, one might argue) of the high fantasy of the Fionavar Tapestry, Guy writes books that are deeply steeped in history and geography, writing in settings that are based on, but are not, in our world–settings similar to Moorish Spain, medieval Italy, and Viking invasions of Saxony. In his 2010 novel Under Heaven, we encounter the land of Kitai, based on China during the Tang Dynasty. In his new novel River of Stars, we are returned to Kitai some 400 years later. In conversation with Laurie Grassi, Guy discussed River, history and his not-quite-historical settings, what moves him to write, and–what else?–baseball.
Continue reading "The Event: Guy Gavriel Kay at Toronto Reference Library's Appel Salon" →