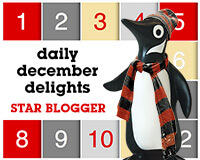 Part of Penguin Canada's Daily December Delights!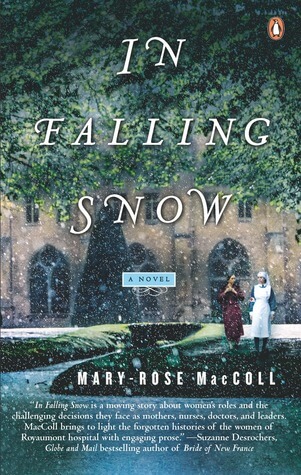 "When I came into the ward later in the morning on my way to reception, another was in the boy's bed. I saw Miss Ivens on her way back to the theatre. I asked her what had happened and she said the end had been peaceful. 'Sometimes that's all you can do,' she said. She must have read the sadness in my face. 'It's enough,' she said. 'Sometimes you can't even given them that. And that's the hardest of all.' "
– In Falling Snow, Mary-Rose MacColl

An elderly Australian woman receives an invitation that brings memories flooding back from a time in her life she has tried hard to forget. She imagines being a young woman, in a field hospital in France, watching in wonder the first snowfall she has ever seen. That wonder suffuses the starker landscape of a France at war, of young men dying and strong women doing all they can to save them. Mary-Rose MacColl's North American debut In Falling Snow is a beautiful World War I tale and a thoughtful meditation on the slippery nature of memory, as well as the roles of women in family, friendship, work, and war across the 20th century.

The novel begins with the first-person perspective of Iris Crane, an old lady who sometimes forgets the names of the neighbour boy or the mailman, but who is mostly all right on her own. In the midst of rescuing an abandoned baby sugar glider and looking after her great-grandchildren, she receives an invitation to attend a reunion in France. During the First World War, she and a group of Scottish women set up a field hospital at Royaumont abbey, where Iris worked as a nurse and hospital administrator's assistant. The narrative shifts fluidly between Iris's present day (in the 1980s) and her remembrances of her time in Royaumont during the war. Her great-grandson reminds her of her brother Tom, and she loses herself in memories of all but raising Tom after their mother died, and following him to France after he lied about his age to join the war effort. She locates her brother and ascertains that he is all right, but she elects to stay on at the fledgeling hospital where she is desperately needed, rather than bundling them both back to Australia.
Meanwhile, Iris's granddaughter Grace is a busy obstetrician with three children of her own who is shocked when she sees the invitation. Iris raised Grace, and yet Grace has no idea that Iris had even been involved in the war, let alone in a hospital run by women in France. Grace herself is fighting against the sexism inherent in the 1980s medical world while arguing with her husband about their young son's health—David thinks something is wrong with little Henry but Grace is strangely opposed to investigating further. As the plot moves between the two women, parallels are drawn between losses suffered and decisions each of them has made that reverberate through their lives.
The novel is at its best from Iris's point of view. While she may get somewhat muddled in the present, her descriptions of the past are lush and provide immediacy and intimacy: Royaumont—and the bold women who comprise its dedicated, overworked staff—springs to life. And so does the violence of the war, and the futility the soldiers so often feel. Some, far away from the fighting, feel they aren't contributing enough. Others, far away from home, know they will never see their families again. But the women of Royaumont take centre stage, dealing with the mundane as well as the horrific aspects of war, from waiting on mattresses to arrive and navigating bureaucracy to dealing with wounds gone septic and holding the hands of dying boys. Amidst the carnage, though, Iris begins to come into her own, acting as the indispensable assistant to Miss Ivens, the administrator, and meeting a young woman named Violet who becomes a fast and dear friend. Even as characters feel anger and helplessness at their situation, so too are they able to find joy. At one point, Iris's fiancé in Australia accuses of her seeming not to want to come home. The humanity of these reactions to war is so wonderfully authentic. As we move between the timelines, we get glimpses of some of the tragedy that will befall Iris, but the skillful storytelling keeps us guessing right to the end just how relationships and lives are damaged, renewed, or lost forever.
While the world is mostly clear and logical when we see through Iris's eyes, it becomes clear from Grace's point of view how easily confused the elderly Iris is getting, which allows MacColl space to examine the nature of memory and its breakdown within the space of her First World War tale. Though Iris is hellbent on returning to Royaumont after years of refusing even to correspond with her esrtwhile comrades-in-arms, Grace is terrified that her grandmother's heart won't be able to handle the journey. It's somewhat difficult to connect with Grace. She provides some necessary perspective, but her half of the story is much less compelling that Iris's. The third person is immediately distancing for a character who is already a bit difficult to approach, and for the most part her plight feels a bit extraneous when compared to the meatiness of Iris's. Her fears about her son's hereditary disease happening just as Iris is revisiting everything that happened to her in the 1910s is convenient, and for the most part Grace's woes in the hospital don't add much to the narrative, especially next to the exquisite storytelling of Iris's half.
The novel explores a number of heavy themes, including the ways in which split-second decisions and choices small and large can ripple out and influence many different lives. It also tackles issues of bureaucracy and the British treatment of "cowardice" in its soldiers, and women's suffrage in the 1910s layered with the plight of women doctors still second-guessed and even persecuted in the 1980s. "After all," Iris's mentor Miss Ivens says, "We're women. We do things." This sense of endurance is symbolized by Royaumont itself, built originally by the Cistercians in the 1200s, repurposed as a hosptial in the 1910s, still standing in the 1980s.
While the novel at times feels like it's trying to cover too many issues at once, the story itself never falls back on cliché. Each scene is fresh and fascinating, and the reveals we're given, right to the very end, are compelling and emotional. This book puts a very human face on a war that seems far removed from us now, focusing on the women who worked tirelessly to save lives, and how their own lives were changed. I am so glad to have shared Iris's story, and I eagerly await Ms. MacColl's future works.
Four out of five blue pencils
In Falling Snow by Mary-Rose MacColl, published in Canada by Penguin, © 2013
Available at Amazon, Indigo, and at fine independent bookstores everywhere via Indiebound.
Book provided to me by Penguin Canada in exchange for a fair review.
---
You might also like:
| | | |
| --- | --- | --- |
| Review of The End of Your Life Book Club, by Will Schwalbe | Review of Life after Life, by Kate Atkinson | |