Red Joan by Jennie Rooney is nothing like what I expected, and it's all the better for it. When I think of spy novels, James Bond springs to mind. Tense, generally unemotional settings, a main character who is thrust into dangerous situations in enemy locations, bullets flying and punches thrown. I wasn't envisioning that exact scenario for Joan's past, perhaps, but…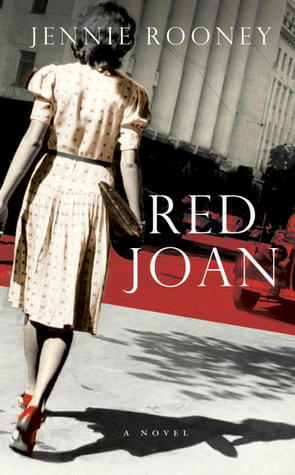 "Joan shakes her head as he speaks. She knows it is part of his charm, this ability to persuade people that they want to think like him, that they should see the world exactly as he sees it. 'Don't,' she says. 'I'm not at one of your rallies now. It's not my fault my hands aren't worn down by years at the Soviet coalface. I didn't choose to be born in St. Albans but I don't see why my loyalties should be any less legitimate than yours.' "
– Red Joan, Jennie Rooney
A widowed octogenarian lives alone in her home in England, mourning her lost husband, taking watercolour painting classes, enjoying being the mother of a successful lawyer. And then she gets the news she's always dreaded would come. One of her comrades has just "died quietly" after being questioned by MI5, and when she hears a knock at the door, Joan Stanley knows her past as a Russian spy has caught up with her at last.
Red Joan by Jennie Rooney is nothing like what I expected, and it's all the better for it. When I think of spy novels, James Bond springs to mind. Tense, generally unemotional settings, a main character who is thrust into dangerous situations in enemy locations, bullets flying and punches thrown. I wasn't envisioning that exact scenario for Joan's past, perhaps, but I was still surprised throughout by what her role in World War II was—and why. Repercussions echo through her life some fifty years later.
We meet Joan first as an old woman, a British citizen living a quiet life. This allows the reader to become comfortable with her and begin to empathize with her before the knock on the door comes. As she is interviewed by the MI5 agents, the narrative moves back in time, which forms the bulk of the story interspersed with scenes from the present day. Joan defies 1930s expectations to go to Cambridge University to pursue a physics certificate (at the time, women couldn't be awarded degrees). While there, Joan meets the glamorous Russian immigrant Sonya and her cousin Leo. Joan is drawn into their world, attracted to them both for different reasons and falling in love with the charismatic Leo. She begins to attend meetings and movie viewings about communism along with her new friends. Joan isn't the daughter of Russian immigrants or a Russian posing as a British citizen. She doesn't have a secret vendetta against England or even capitalism. How very plausible it all is: while Joan doesn't immediately convert to the cause or become caught up in the fervor, she is quietly influenced by this ideology and by her desire to please her new friends, and win Leo's approval.
Recruited after graduation into a top secret military weapons program, Joan is considered by all but a select few to be a secretary, and while she does indeed keep the tea tray stocked, she is in fact a scientist. Her Russian friends think she is the perfect candidate to pass information, but she refuses to breach the project's confidentiality. Joan has no anti-British sentiment. She doesn't want to cause harm to her country. But the seeds of dissent have been planted, and when one major event causes Joan to change her mind about the confidentiality of her project, she has the means and the connections to do something about it. Her decision is powerful and completely believable. In her acts of espionage, we see a woman who is patriotic to England, not Russia, who thinks she can do something to quite literally save the world.
Red Joan speaks as much to the role of women as it does patriotism or politics, an excellent meditation on gender issues and the way women were (and are) perceived. Joan's mother is only interested in putting together her "university trousseau," for example; and later, when Joan is an obvious suspect once a leak in the weapons project is identified, she is above—or below—suspicion simply because she is female. No one can consider that she might be involved. It is incredible to think that in her lifetime, women went from being unable even to receive a degree they had earned to being an equal member of, say, the MI5 team who comes to interrogate her.
The quietly taut pacing is marred somewhat by the choice to use present tense for both the current and past storylines, which blur together at times and can cause some confusion about which Joan is narrating. Because the flashbacks scenes form the bulk of the actual story but are introduced to us during Joan's interrogation, it's not always entirely clear just how much we're finding out as readers and how much Joan is actually telling, or not telling, the MI5 agents.
Joan is a strongly sympathetic character, and Sonya is easy to fall in love with . Flawed though she is, her manic charisma is palpable. Leo is less interesting. It is always easy to see that he is a user and an egoist. Joan's puppydog devotion to him is frustrating, though not unbelievable, and the romantic subplots draw the reader in further. Her relationship with her adult son in the present storyline is particularly intriguing.
Red Joan is about Joan's inner world: the emotional and ethical tensions caused by her choices, by the concern about the Americans and how they will wield power in this sociopolitical landscape, and by the very real fear that the Allies will lose the war. This is a window into a worldview that we are not used to today—the idea of Russia being an ally of the west, the horror of the atomic bomb being created and then actually used. Thrilling in a different way from other espionage novels, this is novel about what motivates a citizen to commit treason, and the real, long-term consequences of those decisions.
Four out of five blue pencils
Book received from Doubleday Canada in exchange for a fair, unbiased review.
Red Joan by Jennie Rooney, published in Canada by Doubleday Canada, © 2013
Available at the Random House site, Amazon, Indigo, and fine independent bookstores everywhere.
---
You might also like: