Remembrance and forgetting guide the multilayered narratives of Tan Twan Eng's Book-prize-nominated The Garden of Evening Mists. So important are they that they're personified as statues of twin goddesses within the titular Japanese-style garden that is found high in the mountains of Malaya.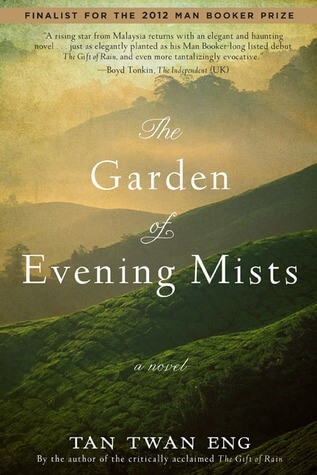 "The first stone in my life had been set down years ago, when I had heard of Aritomo's garden. Everything that had happened since then had brought me to this place in the mountains, this moment in time. Instead of consoling me, this knowledge left me fearful of where my life would lead.
I began to speak. "
– The Garden of Evening Mists, Tan Twan Eng
Remembrance and forgetting guide the multilayered narratives of Tan Twan Eng's luminous, Booker Prize nominated The Garden of Evening Mists. So important are they that they're personified as statues of twin goddesses within the titular Japanese-style garden that is found high in the mountains of Malaya. Teoh Yun Ling, a senior judge retiring from the Malaysian bench, is caught between different periods of her life, of remembering and forgetting.
Yun Ling has kept the reason for her retirement, and her subsequent return to the Cameron Highlands, secret from all but a few people: she has been diagnosed with aphasia, which means she will slowly lose her memories and her ability to process the meaning of words at all. Terrified but determined, she flees to the tea estate that once belonged to Aritomo Nakamura, a Japanese expatriate fabled for being the disgraced gardener of the Japanese emperor. This is not the first time she has made this journey. When she was 19, she and her sister Yun Hong were captured by the Japanese. The more attractive Yun Hong was pressed into service as a "comfort girl" for the soldiers. Ironically, her only escape came in the form of daydreams about Japanese gardens, an art form she fell in love with when the family visited Japan years earlier.
Yun Ling makes it out alive, but her sister does not, and she tries to cleanse her memory and her survivor's guilt by using her law degree to go after war criminals. Later, at the time of the Malayan Emergency, she goes in search of the emperor's gardener. Though she hates the Japanese for everything done to her, her sister, and her country, she seeks to heal her trauma and commemorate her sister by hiring Aritomo to create the garden of Yun Hong's fantasies. He refuses, instead offering a compromise: he will take Yun Ling on as an apprentice so that she can make the garden herself.
Now retired, Yun Ling relates these two periods of her life in her memoirs, and in her discussions with another Japanese professional: Professor Yoshikawa Tatsuji, who is interested in Aritomo's other artistic pursuits, namely ukiyo-e (wood-block prints) and horimono (masterful full-body tattoos). As she tells of the dire political state of Malaya in the 1950s, her work in the garden, her studies in Zen archery, and her unfolding love affair with Aritomo, she underscores it all with the horrors she endured and of the acts she participated in afterward in the name of vengeance. She begins to revisit stories and memories she has long worked to forget, and she finds herself drawing new lines of connection that unearth surprising mysteries and consequences.
Art, tea, guerilla warfare, politics, colonialism. Archery, tattooing, gardening, torture. Families torn apart, freedoms won and lost. . . so much happens across the decades of this quietly epic book. Tan evokes times, places, and pieces of history I had absolutely no idea about or understanding of and makes them come to life. Even as Yun Ling tries to hide her scars, physical and mental, after the war, she sees echoes of them in Magnus, her host, who was taken by the British during the Boer War and still harbours deep resentment and pain. As she remembers the pain she and her sister endured, she also remembers the war criminals she helped put to death. Layers of history and sorrow, of remembering and forgetting, come together to form an exquisitely sad work of art.
The writing in this book is just beautiful, wrapping the reader in the lush, misty green serenity of the Cameron Highlands while offering on a platter the atrocities humans are capable of. "Memory is like patches of sunlight in an overcast valley, shifting with the movement of the clouds," Yun Ling observes as she casts her eye back over her life. "Now and then the light will fall on a particular point in time, illuminating it for a moment before the wind seals up the gap, and the world is in shadows again" (p. 294). Tan jumps effortlessly between the three major time periods of the tale, employing past and present tense to differentiate, and creating distinct voices for Yun Ling, now bitter and filled with hatred, now serene but filled with sadness. The juxtaposition of opposites throughout the novel works in a similar way: the city of Kuala Lumpur versus the country of the Cameron Highlands; colonial versus national interests; heated rainforests versus cool mountains. Remembrance versus forgetting.
Aritomo is a fascinating character, full of surprising angles and well-drawn flaws and strengths. His absence is as important in the "present" narrative as his presence is in the past. The art professor Yoshikawa apologizes to Yun Ling for what his people did to her all those years ago, and she dismisses the apology as meaningless. What she appreciates most about her time with Aritomo is that he never once asked for forgiveness of his people. Instead, he showed her his humanity through his actions and his lessons, and through the intuitive love that springs between them.
A major lesson Aritomo teaches Yun Ling in the art of Japanese gardening is that of shakkei, or borrowed scenery, "taking elements and views from outside a garden and making them integral to his creation" (p. 25). From the reflection of the sky in a pond to a mountain in the distance framed in the garden by vines, shakkei also takes on a deeper meaning: Yun Ling suggests that the exiled Aritomo's memories of his life in Japan are a form of borrowed scenery, brought into his Japanese-style garden in the mountains of Malaya but never truly enough to bring him back to Japan. The same might be said of Yun Ling's memories: the ways in which she must order them in the present, the ways her suppression of them has ordered her life up until this point.
I read The Garden of Evening Mists on vacation, and as I sat on the sun-drenched, postcard-perfect beach, I wept openly during the final chapter. This book of tragedy and healing, trauma and forgiveness, and forgetting and remembrance, is exquisite. It is, perhaps, my favourite book of 2012, and I urge you to pick up a copy.
Five out of five blue pencils
The Garden of Evening Mists by Tan Twan Eng, published in Canada by Weinstein Books, © 2012
Available at Amazon, Indigo, and fine independent bookstores everywhere.
---
You might also like: