The writing is lush and elegant. Basran really is "one to watch," as she was proclaimed by the Vancouver Sun. Her characterization is superb, and her descriptions of smells are particularly evocative.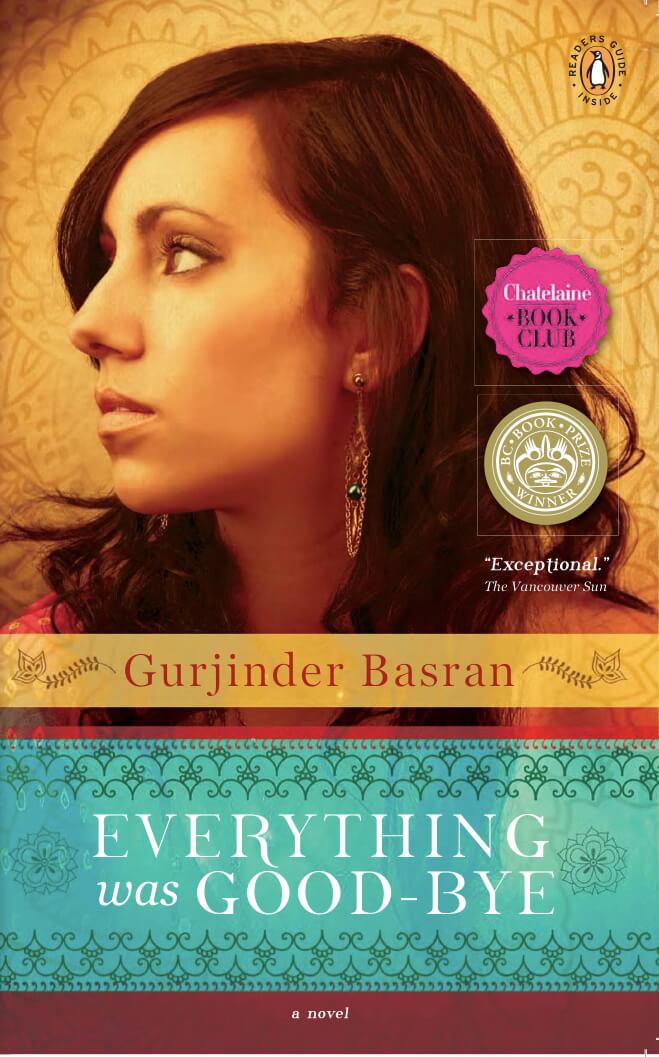 "If only. Those two words have gathered like ghosts. If only my father hadn't died, if only my mother had had sons, if only Harj had stayed, if only I hadn't met Liam, if only he could have loved me…Once, when I was lamenting Harj's departure, my mother told me that 'if only' was the beginning of new dreams made of old things and that only God could reincarnate our hopes into such a reality."
– Everything was Good-bye, Gurjinder Basran
I first heard about Everything Was Good-bye through an invitation to join Penguin Canada and the Chatelaine Book Club for an evening with author Gurjinder Basran. Having a chance to hang out in the Penguin offices, sipping wine, chatting with other bloggers, and listening to Gurjinder read from the book and then answer questions was a not-to-be-missed experience, and I suggest you read the great recaps on Nicole About Town's and Just a Lil Lost's blogs.
I've since read Everything was Good-bye, and my reading was informed by Basran's discussion of how she came to write the book and her own life experiences—almost like reading the book club guide and then reading the novel. Set in the 1990s, Everything Was Good-bye is the story of Meena, a first-generation Punjabi-Canadian struggling to find her place within her family, her cultural community, and Canadian society in general. While it grew out of a journalling project and was inspired by Basran's life in many ways, the book is a work of fiction (one that was an Amazon Breakthrough Novel Award finalist and that won Mother Tongue Publishing's Search for the Great BC Novel Contest).
As a teenager and the youngest of six daughters, Meena's life is overshadowed by the choices her older sisters have made. She's something of an outcast, more interested in wearing jeans than salwar suits, in lining up to get a Simple Minds record autographed than going to yet another friend of a friend's wedding party. And yet she's also an outsider at school because she looks "different" and adheres to a different set of family and social customs. It angers her family that she spends time with Liam, a white boy and outsider in his own right, an artistic kid from a difficult home who feels just as lost as Meena does.
Spanning the time from Meena's broken but beautiful romance with Liam in her late teens to her heartbreaking marriage in her thirties, the book offers gracefully drawn sketches of Meena's life, moments of tragedy and sadness that are inescapable because of her upbringing. Rather than a long, cohesive narrative, we see the major points in Meena's life when choices have to be made, choices that will affect her future and her family. The book raises questions about who we are, if not an aggregate of our past experiences and our upbringing. Can Meena escape familial expectations? Should she? We see her falling for Liam and their subsequent separation after high school. We see the way she and her family are haunted by the loss of her sister Harj, who ran away after falling prey to a terrible crime and afterward being blamed and abandoned by their mother.
From high school, the narrative jumps to Meena's first job, fresh out of university. She is still an outsider, a young woman whose co-workers can't understand why she won't come out for a drink after work. She acquiesces to an arranged marriage with Sunny, a player with feelings for an ex-girlfriend who was not deemed appropriate by his family. Fast-forward once again to part three, when the unhappily married Meena is going through the motions of a life you can't help but think her younger self would disapprove of. Playing the role of the submissive wife, being railroaded by her pushy mother-in-law, having to apologize at every turn for not bearing Sunny children (in spite of the fact that it's Sunny's sperm count that is the source of the fertility issues), Meena runs into Liam once more, and once again major life choices are on the table. What is most important: happiness or duty? Personal freedom or family?
As the title suggests, this is a book about leave-takings and absences, about enduring sadness and living life without the people or experiences you long for most. Meena aches for her sister Harj and yet refuses to buck family expectation to look for her; she desperately wishes she could be with Liam and yet can't make the leap to go find him after he first disappears. Her mother spends most Sundays being comforted by friends and family over the death of her husband a decade and more after he died. This is frustrating but also terribly understandable and true to life.
And Meena becomes lost to herself, too. When she agrees to the arranged marriage, she must change her name to Surinder because Sunny's family astrologer says that the match will be a poor one if she keeps her own name. This is an adroit analogy for Meena's whole life. She is constantly trying to live up to the person her family expects her to be, but she is not that person. Much of what she does and thinks is a lie. Even when Liam returns and Meena might at last find happiness, she is kept, or keeps herself, from it because of these restrictions placed upon her by herself and her family.
Basran's characterization is on the whole superb. Meena is a difficult character to love. I was on her side, wishing only the best for her, but she is also stubborn and judgemental. She has difficulty seeing how much her mom has sacrificed for the family, but she also doesn't have enough of a spine to stand up to her. Meena will sneak into the city, or sleep with Liam, but she won't tell her family what she wants.
Her mother is also an incredibly well-crafted character. This woman has been shaped by the difficulties of moving from her home first to England and then to Canada in search of the proverbial better life, only to lose her husband in a construction accident and be forced to raise her six daughters alone, working as a fruit picker and janitor to make ends meet. Her situation raises sympathy, and yet she is a difficult woman to love. She banishes one daughter for doing nothing wrong, and she all but forces another daughter to stay in a physically abusive marriage because a woman simply does not leave her husband. Custom and tradition are everything to her, and she can't understand Meena's rebelliousness against how things must be done.
The men do not fare as well in characterization. Liam, Sunny, and Meena's sometimes-love-interest Kal are not nearly as complete, existing more for Meena to react against than as people in their own right. In many ways they are more like the shadow cast by Meena's absent father than living, breathing men.
Because the book is a series of snapshots rather than a more unified story, we see only the sadness. There may be joyful times in Meena's life, but they aren't for us. And this sadness, not unlike the grinding tragedy of Krys Lee's Drifting House , begins to wear on the reader. The mental and psychological abuse several of the characters suffer, the lost loves, the crushing expectations begin to blend together and lose their impact. In many ways, this book would benefit from being twenty thousand words longer, drawing the story together and showing more of both Meena's life and the lives of her family. Why does Meena suddenly accept her arranged marriage? Why isn't Kal a suitable choice instead of Sunny? Do Sunny and Meena ever have any meaningful, loving moments, or are they both strangers, both living out the wishes of their families without ever truly connecting? The ending, too, feels more rushed than it should, a deus ex machina that "must" happen in order for Meena to fall into the life path she ends up choosing ( I won't spoil for you what that path is). I wanted to see and know more about what happens. In many ways the book was simply too short.
And that's a shame, because the writing is lush and elegant. Basran really is "one to watch," as she was proclaimed by the Vancouver Sun. Her descriptions of smells are particularly evocative: Liam's childhood home "smells like stale smoke and wet dogs, like the cheap motels my mother cleaned," (p. 44); a clothing store "smelled like incense. Not the kind you got from the Indian store, but the kind that made being Indian smell like mango peach and gingered spice rather than the aroma of ghee and tarka that I'd grown up with" (p. 131). At times the prose reaches a little, becoming too poetic, feeling a bit forced. This is something that time and experience will smooth out, I think; this language is impressive in a first novel and speaks only of the potential of Basran's future writings.
In editing this post, I realized I'd used the word beautiful/beautifully nine times, and that should tell you something about this book. While a bit uneven and rushed in places, this beautifully (see?) crafted tale is definitely a worthwhile read, a book that should find its way into high school and university courses in order to inspire some serious thought and discussion of the themes it presents. This book offers one more portrayal of the so-called Canadian experience, that multifaceted, multi-defined thing so often grappled with by writers and commentators. This heartbreaking story is one to read, and Gurjinder Basran is certainly one to watch.
Three and a half out of five blue pencils
Everything was Good-bye, by Gurjinder Basran, published in Canada by Penguin, © 2012
Available at the Penguin site, Amazon, Indigo, and fine independent bookstores everywhere.