Eighty-two-year-old Maud knows her friend Elizabeth is missing, but because Maud is elderly and suffers from dementia, no one takes her seriously.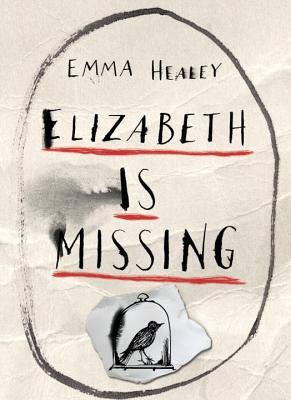 "'Oh, Maud,' she calls out as I leave the shop. 'I asked for coffee and you've given me tea!'
I walk back through the park. There's a plank for sitting on, a long sitting plank, by the bandstand that looks toward Elizabeth's road, and I have a rest, watching a man top up a compost heap. It's cold and it looks like rain, but I don't feel like going home yet."
– Elizabeth is Missing, Emma Healey
What do you do when no one will believe you on a matter of life and death? Eighty-two-year-old Maud knows her friend Elizabeth is missing, but because Maud is elderly and suffers from dementia, no one takes her seriously. After all, she doesn't remember that she's been to the shop to buy tinned peaches twice today, or that the man on the phone is angry because she called him but forgot why. But she does know that Elizabeth is missing, and she must gather her failing memory about her to find out why in Emma Healey's heartwrenching, humourous debut novel. (I had the chance to see her read from and talk about Elizabeth is Missing at IFOA in June.)
Maud is a narrator unlike any I've encountered. She tells her story in the first person, present tense, which allows us to experience directly her jumbled world and her frustration at the freedom that is slipping away from her. This is a daring structural gambit: we both see what Maud doesn't remember—we know, for example, why she wrote "Elizabeth all right says son" on a Post-It even as she has forgotten, but we also don't have a clear sense of how much time has passed, what is happening outside of Maud's limited perspective, or of details that Maud has lost before we had a chance to see them. The buried clues she unearths often as not slip back beneath the shifting sands before she can piece the mystery together. Her fury at her failing mind and at the way she is dismissed by loved ones and strangers alike is palpable and heartbreaking, and yet her wry humour keeps her going.
Her current-day struggle to find out where her friend has gone is interlaced with her more cogent memories of the disappearance of her sister Sukey, just after World War II in England. While they don't appear to be linked, Maud's mind draws connections between her two missing persons cases in phenomenal ways. And beneath it all, we get glimpses of the world outside her perception, in particular of her long-suffering daughter Helen. At first glance Helen may seem like the villain, always getting in her mom's way and telling her what she can't do, but reading between the lines and understanding why she says what she says draws the picture into clearer focus and she becomes a three-dimensional, grief-stricken daughter trying desperately to care for her mother.
While the mystery wraps up a little too neatly, the prose is flawless. It is a pleasure, though at times a difficult one, to watch words, meaning, and memories slip away and reappear in Maud's mind, to experience the irritation and fear at her circumstances. Healey, an author in her twenties, has done something remarkable in creating such an authentic elderly voice. This absorbing book will stay with you.
Four out of five blue pencils
A copy of this book was provided to me by Knopf Canada in exchange for an unbiased review.
Elizabeth is Missing by Wendy Jones, published in Canada by Knopf, © 2014.
Available at Amazon, Indigo, and at fine independent bookstores everywhere via Indiebound.
DeeBrief reviews are shorter reviews that give you a concise snapshot of my reaction to the book.
---
You might also like: