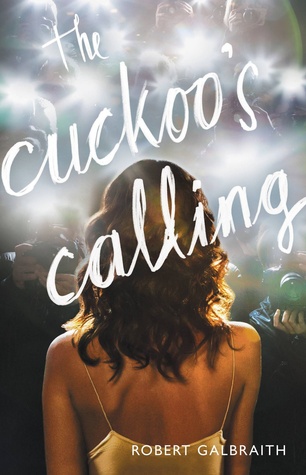 "Somé picked up his mint tea. 'Why do women do it? Cuckoo, too. . . she wasn't stupid—actually, she was razor sharp—so what did she see in Evan Duffield? I'll tell you,' he said without pausing for an answer. 'It's that wounded-poet crap, that soul-pain shit, that too-much-of-a-tortured-genius-to-wash bollocks. Brush your teeth, you little bastard. You're not fucking Byron.'"
– The Cuckoo's Calling, JK Rowling writing as Robert Galbraith
Well, we all know the secret of Robert Galbraith and his debut novel The Cuckoo's Calling. Galbraith, of course, is the pseudonym of JK Rowling. (If you somehow missed the story, check out this article in the New York Times.) Unfortunately, I would likely not have heard about this book if its provenance hadn't been revealed, but I wish I'd read it unhindered by the knowledge of who its author is. It's impossible to read without bring a boatload of expectations and assumptions to the table. I've lost count of the number of times I've read my beloved Harry Potter books, and yet I absolutely despised Rowling's adult debut A Casual Vacancy. How, then, to read a mystery that was published with the specific intent of enjoying critical reviews and audience response without being associated with the Rowling powerhouse?
Fortunately, The Cuckoo's Calling returns to Rowling's greatest strength: compelling narrative. Rowling is a master storyteller, and in this contemporary murder mystery there's plenty of story to go around. Private investigator Cormoran Strike is physically imposing, mentally sharp, and socially a bit gruff. His girlfriend has left him (again), he's sleeping in his office, and he's in pain due to the leg he lost as a Military Policeman in Afghanistan. Not to mention he can barely pay his bills, including the salary of bright, eager temp secretary Robin Ellacott. When John Bristow, an old school chum, turns up with a case, Cormoran can hardly say no, especially because Bristow is prepared to overpay him grandly. Bristow's adopted sister, ultra-famous supermodel Lula Landry, has apparently committed suicide, but Bristow is convinced she was murdered.
Cormoran dives into the mystery, finding himself immersed in a world of high fashion, glamour, fame, and unbelievable riches. While Lula's apparent suicide seems straightforward, Cormoran begins to poke holes and find puzzling questions lingering around her death. Everyone from her driver to her birth mother have means or motive. At first he's not quite sure what to do with Robin, who is overqualified but quite keen to do his filing, but the more she demonstrates a desire to help and a decent ability to make educated guesses about the tricky mystery, Cormoran draws her in and the pair begin to work together.
Nothing is as it seems, of course, and this classic detective novel is also an intriguing look at the nature of celebrity. From fashion photo shoots to exclusive night clubs, drugs and addiction, and sex with beautiful famous people, Calling marries the gritty legwork of private investigation with a world that tabloids can only dream of accessing. Searing in its treatment of the paparazzi who hound famous people like Lula, Rowling also shows how these celebrities court the camera. Lula's sometimes-boyfriend Evan Duffield often wears a wolf mask when exiting night clubs, ostensibly to cover his face so the press can't see him, but also inviting more attention because of the mask. This behind-the-scenes tabloidiness feels authentic and makes for some excellent set pieces. As a meditation on the fickle nature of celebrity, it seems especially fitting that Rowling tried to escape the glare of her own celebrity here—and failed.
Too, Rowling has a great ear for capturing people of different social strata, for example Lula's old money neighbours who reported her death, the ultra-rich American rap star Deeby Macc who had wanted to meet her before she died, and Rochelle, a homeless young woman Lula had befriended. Dialogue is at times somewhat stilted and old-fashioned, but overall the characters are well crafted. Cormoran's back story is wonderfully fleshed out and complex, and his growing gumshoe-and-sidekick relationship with Robin is a real treat. No one is left one dimensional.
The writing is far more functional than aesthetically pleasing. Rowling is prone to getting bogged down in clunky description and is overly fond of adverbs. If anything were to have given her away as the author of this book (outside of the richly imagined world and the detailed stories of the large cast of characters), it would be the wealth of adjectives, unnecessary descriptions of colour and mood, and inelegant adverbs. Again, her style tends toward the old-fashioned, which doesn't stick out when writing about antediluvian wizards but is evident in a contemporary London setting.
That said, the plot is tight and well thought out, intricate in its many possible suspects and the frustrating nature of an apparent suicide. The mystery is mostly quite mysterious indeed. Though I had a few suspicions, I didn't guess the solution to the puzzle before the big reveal. And the personal lives of Cormoran and Robin, where they overlap with the case and with each other, are also interesting and add to the fast, well-rounded read.
This is a big, fun, glitzy, gritty page-turner with characters that are both fascinating and genuine. It's a welcome addition to the detective genre, and I'm excited to hear that Rowling is already working on a second in the Cormoran Strike series. I can't wait to find out what's next for Cormoran and Robin.
Four out of five blue pencils
The Cuckoo's Calling by JK Rowling writing as Robert Galbraith, published in Canada by Mulholland Books, © 2013
Find it Amazon, Indigo, and fine independent bookstores everywhere via Indiebound.
---
You might also like: