This review has taken a long time to write. How do you review Alice Munro? It's akin to being an art critic who looks at the Mona Lisa in order to write a review—only this is a brand new work, not an age-old classic.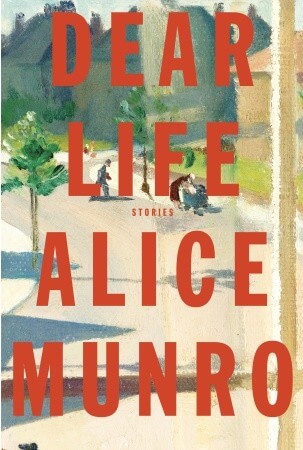 "People were always saying that this town was like a funeral, but in fact when there was a real funeral it put on its best show of liveliness. She was reminded of that when she saw, from a block away, the funeral-goers coming out of the church doors, stopping to chat and ease themselves out of solemnity."
– "Corrie," from Dear Life, by Alice Munro
This review has taken a long time to write. How do you review Alice Munro? The task is akin to being an art critic who looks at the Mona Lisa in order to write a review—only this is a brand new work, not an age-old classic.
I'm always a bit twitchy when a new work comes out from an author I love. What if it doesn't live up to my expectations? (See, for example, J.K. Rowling's The Casual Vacancy. I may review that book here if I ever force myself to finish slogging through it.) I needn't have worried, though. In her latest collection, Dear Life, Munro surpasses herself. This is a gathering of stories set mostly in rural Ontario ("Munroland"), mostly in the not-too-distant past, that are as much about what is remembered by the narrator as what isn't, as much about what is left out of the story as what is brought into it. This book is a work about the shifting nature of memory and the way we build and rebuild our own narratives.
The book begins with "To Reach Japan," a story that lets us enter Ontario by starting in Vancouver. As Greta and her young daughter Katy board a train, it's more than just her husband they're bidding farewell to for a few months. Greta is letting go of long-held fears, social awkwardness, and prescribed roles, turning her back on social mores, and all based on a chance encounter and a shocking explosion of emotion. But of course it isn't that easy, and unexpected dangers result. The very imminent threat and fear near the end is so palpable, the reader has to remind herself to breathe.
Munro's characters live in a concrete but liminal world, in spaces that are absolutely familiar and mundane, and yet that operate on the boarders of society: a train, a sanatorium, the outskirts of town by a gravel pit, the inside of her own head when she was a young girl. Each story is utterly independent of the others, even as they share certain themes and certain settings. Fundamental to these stories are a sense of the strange within the familiar, an inversion or left-turn in the last quarter of the story that takes the reader completely by surprise. Themes of religion and of faith (not always the same thing), and how religious or societal conservatism can inform and constrain an individual or a group thread throughout many of the stories.
Guiding the stories, which are by turn playful and remorseful, light and dark, are questions of memory. Many of the narratives are admittedly incomplete, missing key points that a child couldn't understand or that have been lost to the narrator as the years go by. Consider "Gravel," told by an adult narrator looking back at childhood memories. "I barely remember that life," she says, "that is, I remember some parts of it clearly, but without the links you need to form a proper picture. All that I retain in my head of the house in town is the wallpaper with teddy bears in my old room" (pp. 91–2). Later, recalling the main incident the story outlines, the narrator tells us as much as she can in a fragmentary way and then gives up: "Beyond that I have no details" (p. 104). Many of the stories play with this question of memory, are framed by absences of backstory or of characters explaining their pasts. These tales exist within the bubbles of the small worlds in which their characters operate.
In "Leaving Maverley," which is set in a small community in the old days when there was a movie theatre in every town" (p. 67), a cop named Ray finds himself in charge of escorting an introverted teenage girl from an almost cult-like and closed-in family home from her job at the cinema each Saturday night. She takes tickets but is forbidden by her strict father from watching the films. Ray coaxes her to speak on their walks by explaining movie plots, makeup, and special effects to her. The growing but barely narrated consternation his wife feels over his strange attachment to the girl, and his own sense of betrayal when the teen leaves, is breathtaking, and is turned on its head by the second half of the story. Later in the book, in "Dolly," an older couple's quiet life together is thrown into chaos by a blast from one of their pasts, while in "Corrie," a wealthy, single woman and her married lover are being blackmailed, a situation that leads Corrie to a discovery that is totally unexpected to both her and the reader, but which somehow deepens her relationship.
Munro does an excellent job of pairing these shocking (but always entirely believable) turns with timeless stories. In "Train," I read the first few pages several times to see if I was missing something, but again, the story is created by its absences and lack of information (which becomes more apparent as the story progresses). One character's choice and life's path in the latter third took me completely by surprise. In "Amundsen," a young teacher goes to work in a tuberculosis sanatorium and falls in love with the head doctor. Their story progresses in a way that is both exciting and inevitable. The ending, abrupt and cool, feels like the only possible finale for these characters.
Dear Life ends with a quartet of almost-biographical sketches, which Munro prefaces by saying, "The final four works in this book are not quite stories. They form a separate unit, one that is autobiographical in feeling, though not, sometimes, entirely so in fact. I believe they are the first and last—and the closest—things I have to say about my own life" (p. 255). These are so gripping in their feeling of truthfulness, and in the tension they hold with the first set of wholly fictional pieces, which are themselves informed by unreliable narrators and gaps in memory.
I can't recommend these masterful stories enough. I can't even choose a favourite, though the final quartet must be read by anyone interested in storytelling and in Canadian fiction. No one does it like Alice Munro. And Munro herself just gets better with every new publication.
Five out of five blue pencils
Book received from McClelland & Stewart in exchange for a fair, unbiased review.
Dear Life, by Alice Munro, published in Canada by McClelland & Stewart, © 2012
Available at the Random House site, Amazon, Indigo, and fine independent bookstores everywhere.
---
You might also like: