The writing is lush and elegant. Basran really is "one to watch," as she was proclaimed by the Vancouver Sun. Her characterization is superb, and her descriptions of smells are particularly evocative.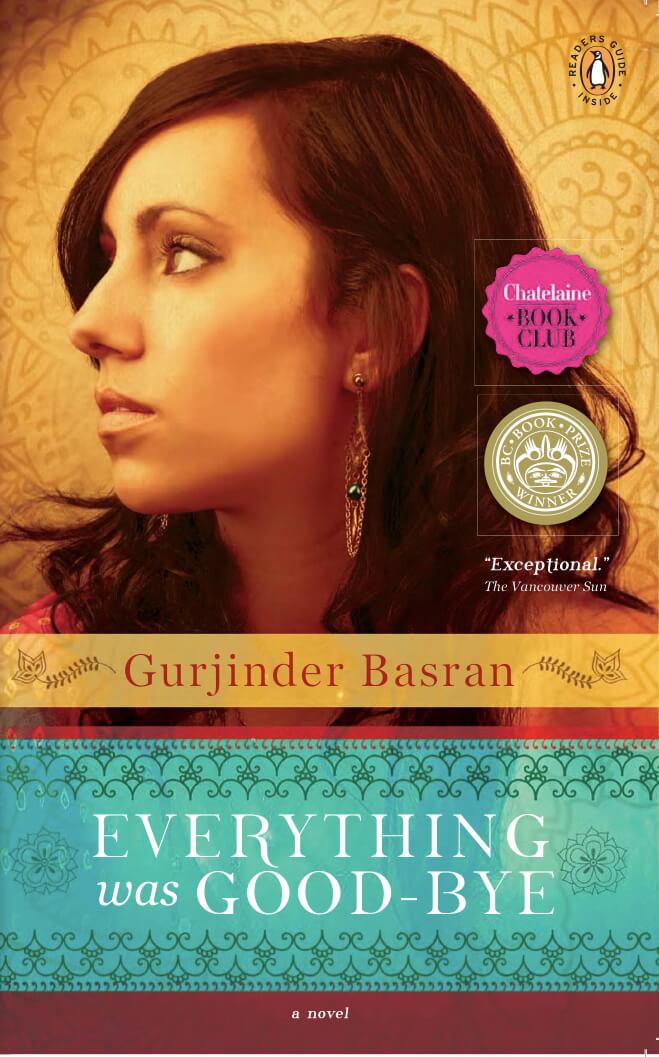 "If only. Those two words have gathered like ghosts. If only my father hadn't died, if only my mother had had sons, if only Harj had stayed, if only I hadn't met Liam, if only he could have loved me…Once, when I was lamenting Harj's departure, my mother told me that 'if only' was the beginning of new dreams made of old things and that only God could reincarnate our hopes into such a reality."
– Everything was Good-bye, Gurjinder Basran
I first heard about Everything Was Good-bye through an invitation to join Penguin Canada and the Chatelaine Book Club for an evening with author Gurjinder Basran. Having a chance to hang out in the Penguin offices, sipping wine, chatting with other bloggers, and listening to Gurjinder read from the book and then answer questions was a not-to-be-missed experience, and I suggest you read the great recaps on Nicole About Town's and Just a Lil Lost's blogs.
I've since read Everything was Good-bye, and my reading was informed by Basran's discussion of how she came to write the book and her own life experiences—almost like reading the book club guide and then reading the novel. Set in the 1990s, Everything Was Good-bye is the story of Meena, a first-generation Punjabi-Canadian struggling to find her place within her family, her cultural community, and Canadian society in general. While it grew out of a journalling project and was inspired by Basran's life in many ways, the book is a work of fiction (one that was an Amazon Breakthrough Novel Award finalist and that won Mother Tongue Publishing's Search for the Great BC Novel Contest).
As a teenager and the youngest of six daughters, Meena's life is overshadowed by the choices her older sisters have made. She's something of an outcast, more interested in wearing jeans than salwar suits, in lining up to get a Simple Minds record autographed than going to yet another friend of a friend's wedding party. And yet she's also an outsider at school because she looks "different" and adheres to a different set of family and social customs. It angers her family that she spends time with Liam, a white boy and outsider in his own right, an artistic kid from a difficult home who feels just as lost as Meena does.
Spanning the time from Meena's broken but beautiful romance with Liam in her late teens to her heartbreaking marriage in her thirties, the book offers gracefully drawn sketches of Meena's life, moments of tragedy and sadness that are inescapable because of her upbringing. Continue reading "The smell of chai and sadness: a review of Everything was Good-bye by Gurjinder Basran" →