To wrap up the literary portion of this year's arts celebration, the Luminato Festival offered up a "day of literary intensity" on Sunday, June 15th. Trinity Bellwoods, the iconic downtown park, played host to A Literary Picnic, which featured a theme of "Toronto, the Unseen." More than 45 writers took to several stages, and a bookmobile, an Author Confessional Booth for deep, dark reader secrets, and many food trucks spread through the park on the perfect, sunny Sunday afternoon. And three Literary Walks took intrepid readers through different parts of Toronto. Alissa York, author of Fauna, led a group through the Don Valley, Carey Fagan and his explorers tackled Kensington Market, and Russell Smith brought some of us along to chat about his vision of Queen Street West.
Initially, the walk was to be led by horror writer Andrew Pyper, whose theme was to be the dark and frightening aspects of Queen West. For personal reasons, Andrew wasn't able to take us on the tour, but his friend, novelist and Globe & Mail columnist Russell Smith, stepped in to help. "I write social satire," Smith said. "There's overlap." When he arrived in Toronto, Queen Street West was "the centre of the city," and in particular the place to be for Goth culture in the 90s.
We began at 441 Queen Street West, near Spadina Avenue (a major downtown intersection that slices through the Fashion District and an assortment of big commercial chains and quirky local shops). This building, completed in 1881 as the Oddfellows' Hall, has recently been home to a Lettieri cafe and a Hero Certified Burgers. I've walked by it countless times, and I never noticed the eroding pillar that Russell began the tour with:
---
This strange, eroding stone is said to be the fabled Stone of Destiny, used for generations to crown kings of Scotland and later England. The story goes that the Masons smuggled the Stone out of England to Nova Scotia, buried it there for safekeeping, and eventually moved it to Toronto, installing it in the Oddfellows Hall amongst many other Masonic symbols. I leave it to you to make what you will of this tale. . .
Along our walk, Russell pointed back toward Rivoli, a restaurant whose location Margaret Atwood based the Le Toxique cafe on in The Robber Bride . After reading a passage of the book, Russell nodded westward where the grungy, ungentrified vibe matched the scene far better. Even in that 90s title, Atwood's characters complain about the gentrification of Queen West, showing that the current trend is nothing new. We also passed a Burger's Priest (an independent local chain that has sprung to prominence in the past five years). "You used to be able to get all your Goth wear, your leather pants and witch coats here," Russell said, when the location was not a deeply Christian burger joint but a shop called Siren. Across the street still stands Moog Electronics, a major centre for the DJing and electronica scene. As we passed the many dusty antique and fabric shops, Russell talked about the importance of the urban walk to writers who steep their work in a certain city; even the French surrealists were drawn to the dusty, old, strange things in such shop windows, which "inspire ideas of the weird."
| | |
| --- | --- |
| | |
We also looked at 410 Euclid Avenue just off Queen West, a genteel and unobtrusive home that once belonged to noted physician and spiritualist Dr. Albert Watson. The Humble Ones of the Twentieth Plane (really) met there, convening an Afterlife Council (Watson claimed to be in contact with, among others, Coleridge, Milton, Tennyson, and Abraham Lincoln, who had some serious opinions about politics and literature in the day). Lucy Maude Montgomery visited the group and proclaimed it, in Russell's words, "Fascinating but absolute poppycock." I do love Ms. Montgomery.
Russell pointed out the many spots that specifically inspired his own and others' writing, reading selections from each; La Palette restaurant, in which characters in his story anthology Young Men "tried to outdo each other in hipness," the Bovine Sex Club, an indie music bar that inspired a scene in his story "Penumbra," and the Coupe Bizarre hair salon featured in his novel Noise. The Gandhi Roti Shop takes pride of place in Andrew Pyper's The Killing Circle , and the shops across from Trinity Bellwoods Park that inspired Grace O'Connell's Magnified World . We lingered beside a Starbucks that was once a club called Sanctuary, the inspiration for a club in Russell's novel How Insensitive. He describes Sanctuary as "the greatest Goth club in Toronto," where the dress code was "no running shoes, no nice sweaters," and on the basement dance floor stood a coffin you could climb into and a giant Harley-Davidson motorcycle. "I hope the symbolism of it now being a Starbucks is not lost on you," he intoned.
| | |
| --- | --- |
| | |
"When writers pick a fictitious spot," he explained, they sometimes changed the geography of that place in order to feel free to write and change that space. He acknowledged as we wound down at Trinity Bellwoods that while much of his talk had been nostalgic, touching on his own youth on Queen West, the area continues to inspire new young writers—writers such Grace O'Connell and the graphic novelists Richard Poplak and Nick Marinkovich, who wrote the nonfiction memoir Kenk , about notorious anarchist and bicycle thief/seller Harvey Kenk.
A marvelous meander, this walk combined well-curated readings and fascinating facts I never knew about a street I traverse regularly, putting the area and the idea of the urban walk into a whole new perspective.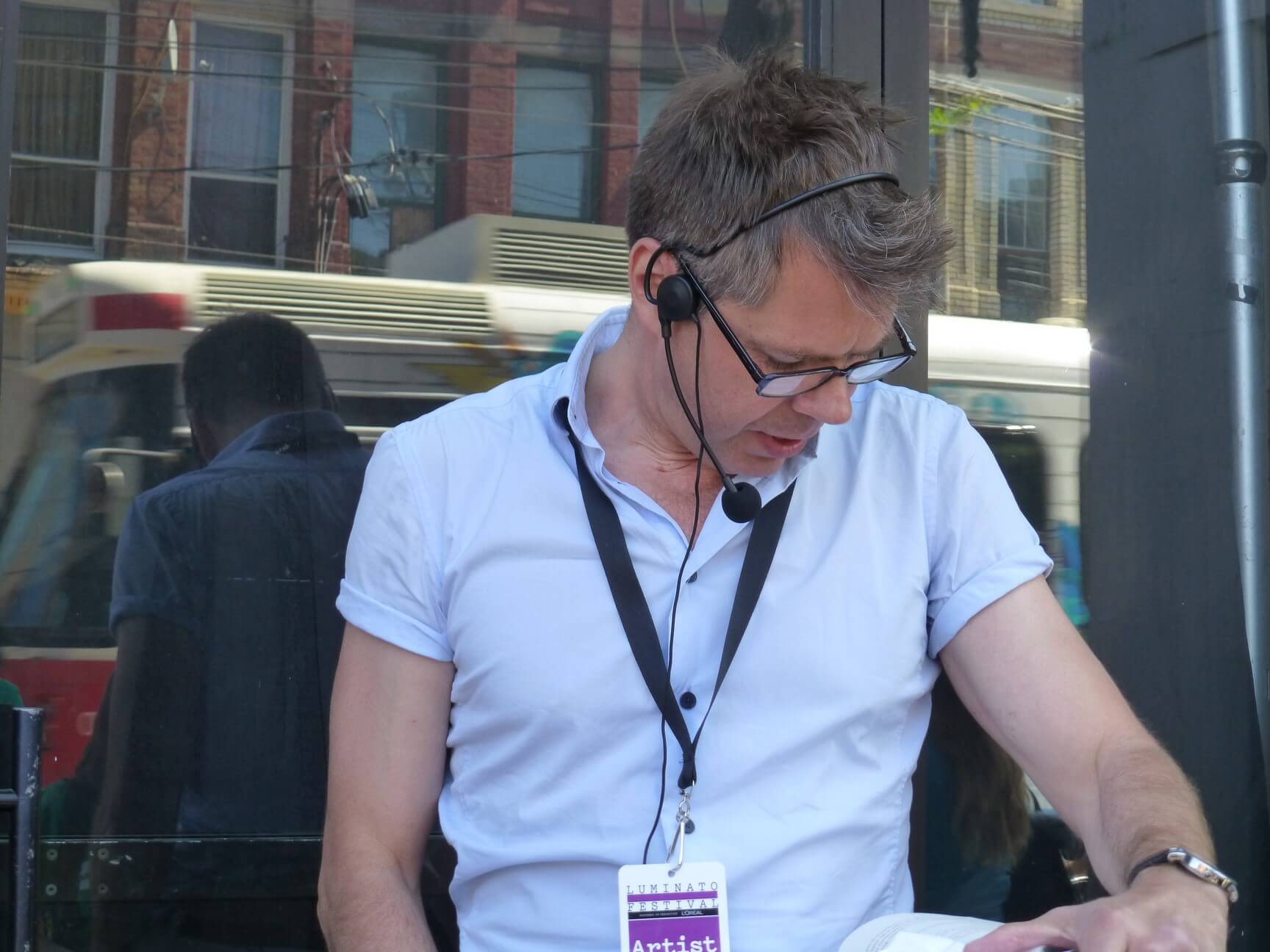 You might also like:
| | | |
| --- | --- | --- |
| | | Andrew Pyper. Photo by Don Denton |