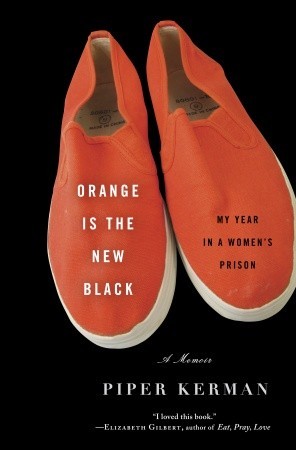 "If you are a relatively small woman, and a man at least twice your size is bellowing at you in anger, and you're wearing a prisoner's uniform, and he has a pair of handcuffs on his belt, I don't care how much of a badass you think you are, you'll be fucking scared."
– Orange is the New Black: My Year in a Women's Prison, Piper Kerman
I'm kicking off the new year with a couple of new blog features. The first is audiobook reviews!
If you haven't binge-watched Orange is the New Black on Netflix (I watched all 13 episodes in a day and a half), you've probably at least heard about it. Part of the show's draw is that it's based on real life events. Piper Kerman's memoir Orange is the New Black: My Year in a Women's Prison documents the thirteen months Kerman spent in a federal correctional facility in Danbury, Connecticut. Narrated by Cassandra Campbell, the audiobook is a fascinating and surprisingly touching look at life behind bars.
From a good home, well off and with not a lot to worry about, Kerman indulged her rebellious streak after college when she fell into a relationship with a glamorous older woman. Nora, it turned out, was a drug dealer working for a West African kingpin, and Kerman enjoyed the money, notoriety, and hint of danger the relationship afforded her, especially when Nora took the younger woman with her around the world. When Nora asked Kerman to transport a briefcase full of money across an international border, Kerman did it. . . but then got out, leaving Nora and her globe-trotting life behind. Or so she thought.
Years later, after successfully establishing a career and falling in love with her best friend Larry, Kerman was shocked to find that she was being charged with money laundering and drug trafficking. Based on drug conspiracy laws, the smallness of her role in the operation didn't matter: she was being charged the same as everyone else in Nora's ring as the feds went after the West African kingpin in charge. For six years, Kerman endured the vagaries of the legal system, her case being changed and put on hold numerous times. At last, after pleading guilty, Kerman self-surrendered for a fifteen-month sentence at Danbury, a minimum security federal prison.
This memoir is fascinating, taking us in a sensitive and thoughtful way to a place most of Kerman's readers will likely (hopefully) never have to see. She isn't shy about what a fish out of water she was at Danbury in terms of socioeconomic background, education, and aesthetics: the guards are inclined to treat her well because she's an educated, blonde, blue-eyed woman. But the first thing that struck me upon her arrival was how every inmate she encountered asked her if she was okay. This isn't a cutthroat journey through Oz but a community of women forced together who take care of each other as best they can. Yes, there's a hierarchy and internal rules Kerman must learn, but she is taken in and shown great kindness as well. And thus begins her months isolated from society, paying her debts for a ten-year-old mistake.
Kerman never says or even implies that she shouldn't have paid for what she did, but she takes the opportunity to shine a spotlight on the absurdities of the American judicial system, both for herself and for the women she's imprisoned with. Many of them are in prison due to Mandatory Minimums sentencing. Many, like her, have been lost in the maze of the legal system for years. Many are not dangerous, have been separated from family, are unable to gain education or job skills of any sort while at Danbury. Kerman is scathing about the way the system works—or doesn't—without getting preachy, dry, or self-important. She simply tells her story and the stories of the women she got to know, and allows the reader to draw conclusions from there. A particularly interesting subplot about Martha Stewart's trial and subsequent incarceration provides further insight: about how women are prosecuted regardless of celebrity, and about how different Martha will nonetheless be treated because of that celebrity status.
Kerman also showcases a wide range of human reaction and interaction in this book, from ego-tripping, power-abusing guards to hands-tied, NIMBYish authorities, to the women themselves, who show such heart and who take care of their own. Kerman is loaned all of the necessities she'll need when she first arrives and doesn't yet have her commissary money available (another bureaucratic issue), and returns the favour multiple times with new inmates. She ruminates on the people who are in Danbury for years, or who go "down the hill" to maximum security. And perhaps most interestingly, she shares tidbits of how you make the days go by, quite literally how you do your time—the forbidden but thriving practice of prison cooking (Kerman's speciality is Prison Cheesecake), who gets to sit where during movie nights, how rooms are assigned, which prisoner beautician to visit, and the many indignities suffered, including the strip search before and after visiting hours.
If, like me, you saw the show before reading the book, you'll notice major differences. You can see incidents in the book that provide inspiration for whole plot arcs in the show, but where the TV version is sensationalized in many ways, the book feels much more personal. Lockdowns and menacing shiv fights make for great viewing, but the desperate attempts to be granted a furlough to see a dying relative and the knowledge that it's hopeless, that because of Kerman's own mistakes and the way the system works, she'll likely never see that person again. . . that's real drama. I also appreciated the lessons Kerman learned. The book suffers a bit from its abrupt ending. As a memoir only about the lead up to and time in prison, we don't get to see how the rest of Kerman's life is affected, if she stays in touch with any of her prison friends, what's happened to any of them, and so on.
The audiobook narration works extremely well with this kind of intimate, first-person memoir. Cassandra Campbell reads beautifully, infusing her narrative with wry humour and self-deprecation, but also with gratitude and warmth. This really feels like sitting with an old friend and hearing all about her harrowing year in prison. Campbell also does great accents, bringing to life the Brooklyn and Hispanic and Russian voices of the supporting cast. Campbell's moving moments of epiphany strengthen the narrative, as Piper realizes that these are the people she was hurting with her careless, high-flying, drug-money-fuelled lifestyle, and her understanding that unlike so many of these women, she has a safety net and a life that will help her stay on the straight and narrow upon her release. A compelling listen, I particularly recommend this book as an audiobook.
Four out of five blue pencils
Orange is the New Black: My Year in a Women's Prison by Piper Kerman, published in Canada by Spiegel & Grau, © 2011. Audiobook published by Tantor Media, narrated by Cassandra Campbell, © 2012.
Available at Amazon and Audible.
You might also like: