A small village in 1980s Pakistan might seem to be a quiet setting, but much is going on beneath the surface in Nadeem Aslam's Season of the Rainbirds, even before several major events rock the community. First, a well-known and corrupt judge is murdered, and then a sack of letters that went missing in a train crash nineteen years previously suddenly reappears.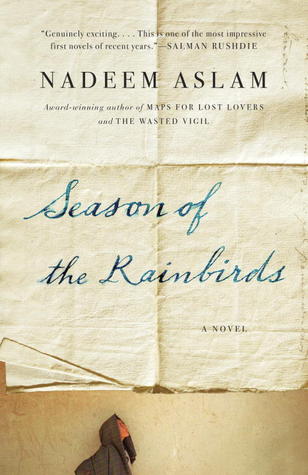 "It was raining. Crickets sang. Darkness and silence pressed down on the huddled street; and for a brief confused moment Dr Sharif was unable to distinguish between the two. Then, filling his lungs with warm humid air, he shouted after Arshad Ali: 'And make sure the chemist takes the injections out of a refrigerator!' A child had recently contracted polio in spite of the fact that she had been vaccinated. The heat had denatured the vaccine."
– Season of the Rainbirds, Nadeem Aslam
A small village in 1980s Pakistan might seem to be a quiet setting, but much is going on beneath the surface in Nadeem Aslam's Season of the Rainbirds, even before several major events rock the community. First, a well-known and corrupt judge is murdered, and then a sack of letters that went missing in a train crash nineteen years previously suddenly reappears. What is in the letters, and what buried secrets might they reveal? Who murdered the judge? And when great political disaster threatens to strike, what are the local repercussions? As we follow a host of townsfolk and several visitors over the next few days, the life, religious concerns, and culture of this tiny Pakistani village unfold in vivid detail.
Nadeem Aslam's first novel is less a gripping tale of suspense and mystery than it is a week in the life of an isolated village that's been shaken up by unforeseen events. With a dramatis personae of two dozen characters, Aslam brings to life the daily comings and goings, the feelings and events and societal beliefs that make a life. Maulana Hafeez, a devout cleric, tries to help the predominantly Muslim population. Deputy Commissioner Azhar is trying to find out who murdered the judge. Both men are largely interested in keeping the peace, though often in very different ways and for different reasons.
As we move through the days, we are introduced to other storylines. Mujeeb Ali is a local landowner, not to mention a politicking, bullying, murderous thug. He may be responsible for the death of Kalsum's son. Kalsum's sister Suraya, meanwhile is visiting from Canada, where her husband is trying to divorce her according to Canadian rules but keep both her and the new woman he wants to marry according to Muslim laws allowing for more than one wife. This troubles Maulana Hafeez, who tries to stress that multiple wives are only allowed under certain circumstances, but who is equally troubled because he believes Suraya cannot be allowed to leave her husband.
Nabi the barber and Zafri the butcher are an excellent source of local gossip. Yusuf Rao is a lawyer and one-time political activist who backed the wrong party nineteen years ago. Though he claims that that life is behind him now, we see glimpses of the violence and intimidation that occurred then, the voters "swayed," the votes miscounted. Saif Aziz is a journalist who arrives in town to cover the reappearance of the letters, but who feels his own political past coming to haunt him.
The prose is exquisite throughout, illustrating mundane but beautiful everyday moments: the sudden clarity brought about by a near-sighted man who tries on glasses for the first time, for example. Descriptions are a frequent joy throughout: "She stood at the window, looking out. Her hair she had tied with a ribbon and in her ears she wore tiny gold roses. In the trees and under the eaves of the silent houses clusters of sparrows were huddled together, their feathers fluffed into soft masses as they waited for the rain to clear." With ease and grace, Aslam has brought this village to startlingly real life, creating for the reader its sounds, its smells, the contrasts of the heavy days before the rainy season starts with the eventual coming of the rain.
We get a good sense of who the main characters are as well, though some don't move beyond character sketches. Azhar and Maulana Hafeez are interesting, flawed, and very real people. The maulana genuinely wants to keep his flock on the right path, saying "My privilege is simply to warn people of the dangers of straying on to the wrong path, I don't have the authority or the means of preventing them from doing so"–although he is certainly always at hand with a verse from the Qu'ran to explain why owning a television set is evil.
One of his greatest concerns, and indeed a conflict that draws itself throughout the book, is Azhar's affair with a Christian woman named Elizabeth. They are unmarried but live together, somewhat defiantly so in 1980s Pakistan, causing a huge problem for the community. Azhar possesses a large amount of power, so he cannot simply be shunned or shamed into "correct" behaviour; Maulana Hafeez wants to try to persuade him gently to the right path while the villagers grow more agitated, seeing the affair as a threat to the greater community.
This idea of putting the needs of the community before individual needs may seem strange to a western reader in 2013. That Azhar's affair is more than just something the villagers disagree with for religious reasons, that they view it as a personal offense and as a threat, is challenging. Similarly jarring is the casualness with which people who don't fit in are beaten, or the torturous interrogation methods applied to Judge Anwar's murderer. Women are shuttered into incredibly limited roles in a way that I found difficult to read about, but because the story is told from the whole village's point of view, it is told unflinchingly and unapologetically. This makes for a fascinating but troubling read.
The lack of forward momentum or any real narrative structure outside the progression of days is frustrating, however. With so many characters, it is difficult really to get a sense of who Mr. Kasmi is, what Gul-Kalam is like, how Asgri is truly feeling. And the set-up, that a sack of missing letters and a judge's murder throws a town into chaos, is misleading. This isn't a mystery. The killer is caught halfway through the book and the murder is barely mentioned again; the letters don't show up until about the hundredth page and also barely appear in the narrative. There is unrest as people wonder what might be in these letters that would have been sent around the time of the last contentious election, but we see very little of what is in them and what the fallout truly is. The letters feel like a bit of a red herring.
With so many people and so many daily tales, the novel also feels, and perhaps must feel, unfinished. Almost no storylines are tied up, or even given any real direction. We are parachuted in and extracted again eleven days later, with more questions than answers. But perhaps we're a little wiser for having felt the rhythms of a life not our own, for seeing and beginning to understand the motivations of people like Maulana Hafeez. And for the lovely writing alone, this book is worth the read.
Three out of five blue pencils
Season of the Rainbirds by Nadeem Aslam, published in Canada by Anchor Books, © 2013 (originally published in England © 1993)
Find it at IndieBound, Amazon, Indigo, and fine independent bookstores everywhere.
---
You might also like: