"The novel is a big, baggy, glorious, inchoate, inexact form."
– David Mitchell, September 20th, 2014
For the packed house at the International Festival of Authors yesterday, David Mitchell needed no introduction. Globe & Mail Arts Editor Jared Bland teased, "He was ranked among the top 100 most influential people in the world by Time in 2007. . . So I guess he's getting less and less influential." He described David's new book, The Bone Clocks, as a "hypnotic Rubik's Cube of a novel." When he read his introduction to David before the event, he told us, the author said whoever wrote that "had had too many metaphors on their Corn Flakes this morning."
An afternoon with David Mitchell promises to be just as sprawling, intelligent, and funny as one of his novels. David began with a reading from The Bone Clocks, "this monster I've unleashed onto the world." He set the scene for his excerpt, asking us to imagine him as a mid-30s foreign war correspondent. It's 2004. He's just discovered that his four-year-old daughter is missing: "And this is what happens next." Ed stumbles through a fan convention filled with Darth Vaders and and Harry Potters to get outside, racing toward a boardwalk psychic Aoife had demanded to visit earlier. The horror of his lost daughter is juxtaposed against the cheery chaos of Brighton Pier.
David is a kinetic reader, his facial expressions and hand gestures matching his narration. You get the sense that he's not just reading from the book but that he is Ed Brubank, confused and terrified, fearing he's being punished now for, mysteriously, "what happened in Iraq." He also interjects with editorial notes fairly frequently, offering a literary Pop-Up Video of the scene. He slipped into a Yorkshire accent for a minor character ("the only accent I can do, everyone's going to be from Yorkshire,"), pointed out an homage to Stanley Kubrick, and thanked Wikipedia after a freewheeling description of "a trio of C-3POs, a pair of Klingons, a lizardy Silurian. . . a blasted Schwarzenegger with bits of T-800 endoskeleton showing through." An impression of a Dalek invited cheers and laughter—"you must admit, you got your money's worth there!" he said before jumping back into the reading. The scene had such a tumultuous forward momentum that as Ed bursts through the psychic's door, the audience leaned forward. Does Ed find Aoife? David grinned as he left off with a cliffhanger. Have to read the book to find out.
David sat down with Jared Bland after the excerpt to talk about writing, macronovels, and The Bone Clocks, and throughout the afternoon the pair referenced everything from Doctor Who and the X-Files to Martin Amis and Jorge Luis Borges. Jared began by asking about The Bone Clocks' earlier incarnation: when he was last in Toronto in 2010, David talked about a book that would comprise 70 short stories. Each story would come from a year in protagonist Holly Sykes's life—a fascinating structure but one that ultimately didn't work. The first few years of her life would have been boring, to start, and "we read short stories in a different way than novels," David contended. "We do have different gears of attentiveness." While each word in a short story matters, when a reader is faced with 600 pages of short stories, "you don't know when to relax. . . what is filler and ornamentation versus crucial detail." And so the novel shape-changed. "I always spend the first six months looking for the book within the gas cloud of ideas," David explained. It takes him six to twelve months when starting a new book to work out just what the book is.
And what is it? An intrinsically fantastical literary work that reaches backward and forward through time. At one point, an author character is lambasted for writing a book with incongruous fantasy elements. David Mitchell is nothing if not self-aware. Is he guarding against similar criticism, Jared Bland asked. "I've done a number of events and if people thought the book sucked, they wouldn't be here," David replied. Though there might be some raised eyebrows amongst readers, "I like to think I do something unexpected with each novel." Certainly readers of Ghostwritten, The Thousand Autumns of Jacob de Zoet, and Cloud Atlas (many of whom have found their way to this blog to read Cloud Atlas with me) expect the unexpected. "'Author of Cloud Atlas,' four words that follow me everywhere. They'll be on my tombstone," David joked. Not a bad legacy!
But the thing about Cloud Atlas, indeed about each novel so far, is that it's part of something larger. David Mitchell is working within the context of a macronovel. "All books must be freestanding parcels" that can be enjoyed on their own, but "they're adding up to something a bit bigger," David explained, bringing up the time Random House Canada publisher Louise Dennys figured him out. "You're creating your very own Middle Earth!" she said to him a few years ago, a charge he doesn't deny. He reminisced about world-building as a child, being given a huge blank sheet of of paper and getting lost in the act of creation: "How absorbed you get, how nourished."
Each book occupies a place in the same universe, with secondary characters in one novel appearing as main characters in another. "It's not the plot arcs that link [the books], but the character arcs," David explained, pointing to Hugo Lamb, who shows up for exactly one thirteenth of Black Swan Green but plays a major part in The Bone Clocks. Why write new characters who are each slightly different from the last when you can use the same character to achieve the same purpose, David asked, joking "is it laziness or utility? Why mess around, bring [Hugo] back! He's a hungry actor." And of course, by revisiting a character at different points and in different places, that character will have the room to develop in a way that can't be achieved within the span of one novel. Just look at Marinus, a major character in both The Thousand Autumns and The Bone Clocks. Marinus has been with David since before his first novel, and he "implanted a few things in Thousand Autumns" about Marinus's character that suddenly come into focus and can be understood in news ways in The Bone Clocks. The author confided that he has an idea for "a Marinus trilogy—a trilogy of Marinae?"
David is already planning ahead, giving us a sneak peek at what will happen two books from now: main Bone Clocks character Crispin Hershey will appear as a toddler in diapers at a party in the late 60s. Crispin's father Anthony, described in The Bone Clocks as an Oscar-winning sci-fi filmmaker, will play a major role. And what else is on the horizon? David wants to explore the link between the Prescients that appear in the post-apocalyptic section of Cloud Atlas and something going on in Iceland in The Bone Clocks.
Jared Bland commented, "All of your work insists on the possibility of becoming a better person. . . on [viewing] coincidences as signs." In terms of themes and characters reappearing in each novel, "it's like playing Whack-a-Mole," David agreed. "Writers are walking bundles of archetypal themes. . . One of my themes is causality. 'What does it mean that this happened?'" Has he solved any of the problems he addresses, Jared asked, and David laughed. "That's not the novel's job." If you insist on finding The Truth, "you'll become a cult leader or worse, a Fox News demagogue."
And that's what David likes about novels: "The novel is a big, baggy, glorious, inchoate, inexact form," and it's a great tool with which to explore questions of predestination, the human heart, and love. David approaches his novels with this in mind: "The point is the journey, the exploration of these things. The novel is potentially a laboratory for testing out theories about these questions." Does he ever want to try to write about something easier? "If it's easy, there's not a lot to explore."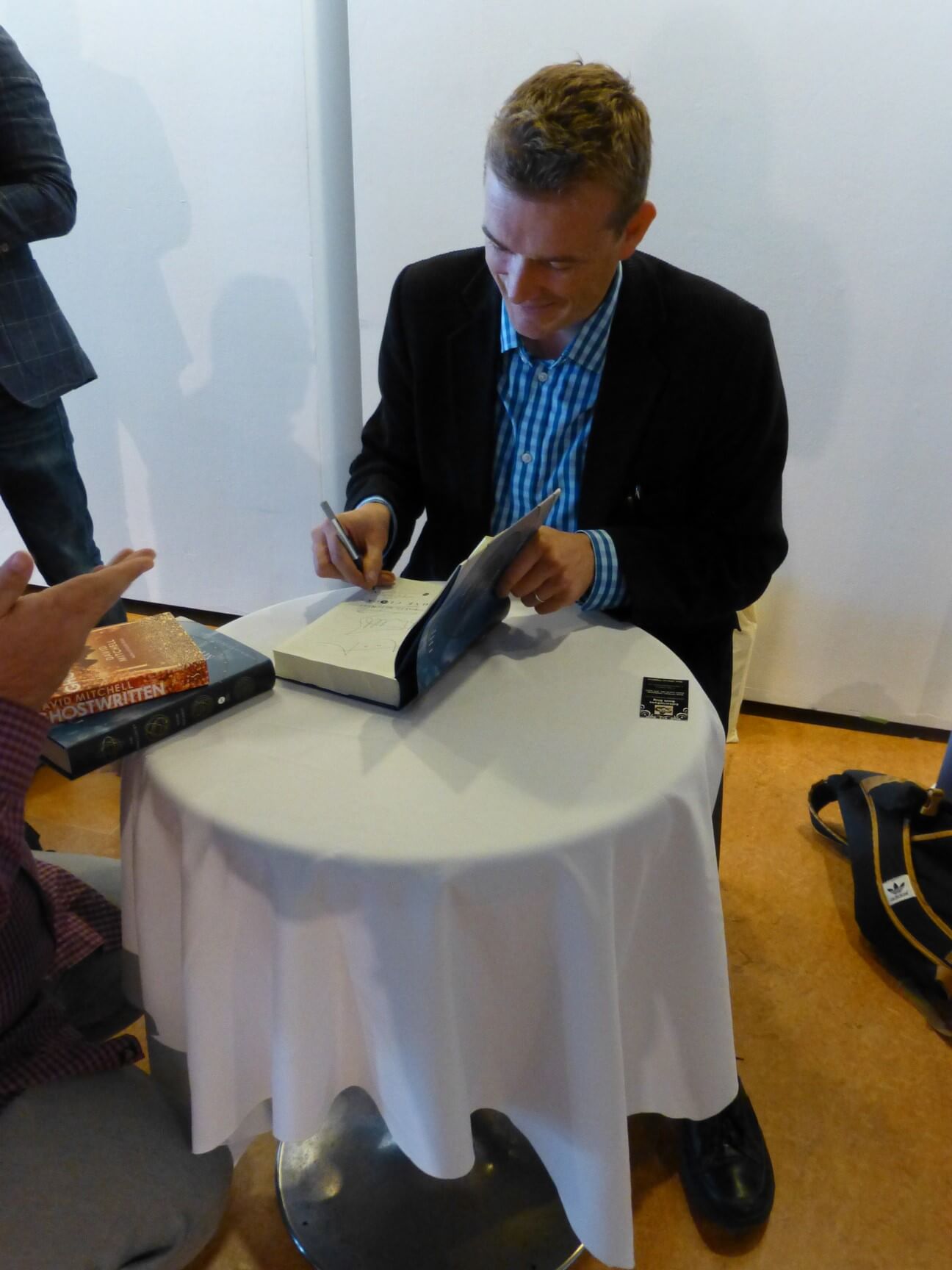 ---
You might also like: